[Back]
Had a workshop for the IT teachers of the Baroda High School, a group of 4 schools today. The teachers loved openSUSE, were swept off their seat looking at some of the Compiz effects(at least I am sure they liked fishes in the bowl).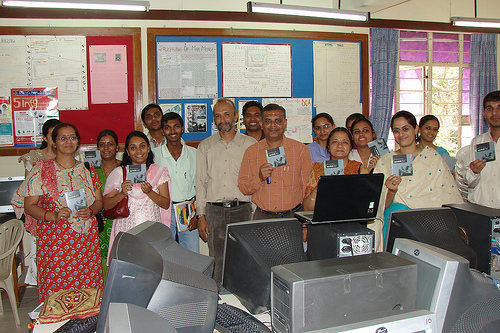 Don't they all look happy with their openSUSE DVDs?
Next on their agenda is set up all their labs to run LTSP with a ton of openSUSE-Edu applications.
Older Posts »
Categories
Useful Places on the WWW

Compiz Installation Guide
Jan Weber's Blog
LTSP on openSUSE
openSUSE for Education
openSUSE-KIWI Imaging
OSS Planet
Planet SUSE
SUSE package discussion
Test Repository
The Compiz Repository
VGLUG
www.cyberorg.info

Recent Posts
Recent Comments