[Back]
Adrian Schröter made an announcement on the openSUSE Build-Service(OBS) ML that OBS now supports storage of .ymp files which makes 'one-click' installation of patterns (group of pacakges) possible.
This announcement ties in with one of the long list enhancements going on over at www.opensuse.org, which incidentally got a new home page with a mischievous message developer left in it's source


New portal was also launched last week news.opensuse.org that should keep you all up to speed with whatever is going on in and around SUSE world, this makes a very good 'official' addition to Planet SUSE maintained by James Ogley where blogs of all the people involved with SUSE are syndicated.
Very soon we are to have a software portal where you can go and install anything you want directly by clicking in the browser. Work is already underway and you can install KDE4, Pidgin, Multimedia support etc using Benji's one-click installer(does not work with the latest metapackage handler) from HERE.
Get and install the latest YaST2 meta package handler for your version of openSUSE, open konqueror and click on any of the .ymp from here:
KDE4
Compiz and Compiz-Fusion (see also this link)
Currently one-click works out of box with konqueror only, to use it with firefox you can do the following:
Create a file called /sbin/FirefoxMPHandler containing:
#!/bin/bash
/sbin/YaST2 OneClickInstallUI $@
change it's permission: chmod +x /sbin/FirefoxMPHandler
Click on .ymp and select 'Open With' -> /sbin/FirefoxMPHandler -> 'Do this for file like this from now on'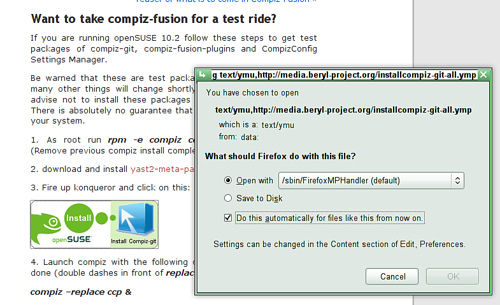 Note: Firefox instructions are temporary only, it should be fixed by 10.3 release so you would not have to do that at all ;).
For systemwide association you can put this in /etc/mailcap:
YMP;/sbin/FirefoxMPHandler
If you are a packager on OBS, create and upload some patterns we can click and install.
Have fun with it!
Edit: Preview of the software portal with one click install is already here: http://software.opensuse.org
Please note that the metapackage handler has changed and the above instructions of manually launching it may not work anymore.
Categories
Useful Places on the WWW

Compiz Installation Guide
Jan Weber's Blog
LTSP on openSUSE
openSUSE for Education
openSUSE-KIWI Imaging
OSS Planet
Planet SUSE
SUSE package discussion
Test Repository
The Compiz Repository
VGLUG
www.cyberorg.info

Recent Posts
Recent Comments